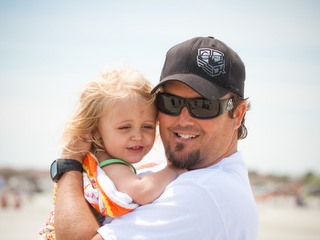 Eddie Toy
Eddie grew up in Melbourne, Florida, the epicenter of surfing in the state of Florida. Home to Sebastian Inlet, Melbourne is surrounded by water, including Atlantic Ocean beaches and miles of intracoastal waterway. Growing up in the ocean, and skateboarding since age 5, he got his first surfboard the summer of 1980 at the age of 8 years old. Summers in high school were spent working as a lifeguard on Brevard County's ocean beaches. Over 30 years Eddie has travelled to California, Oregon, Hawaii, Mexico, Costa Rica, Puerto Rico, the Dominican Republic, several islands in the Bahamas, and up and down the east coast searching for the perfect wave.
While on the NSSA surf team at the University of Florida, Eddie made numerous road trips to the closest east coast beaches of St. Augustine, Florida. After receiving a masters degree in Chemical Oceanography from Florida State University, Eddie returned to St. Augustine in 2001. In the fall of 2001 Ocean Extreme Sports was born, and with it the exciting new sport of kiteboarding was introduced to the First Coast. In 2003 Eddie was certified as a kitesurfing instructor, and co-produced a full-length instructional video with master kiteboarding instructor Paul Menta.
In late 2007, after a trip to Cape Cod, Eddie got his first 11' stand up paddle board just before Christmas. This amazing new sport offered a new opportunity to take advantage of the typically small surf conditions common in northeast Florida when the wind was not favorable for kiteboarding. But it was also a great way to stay in shape.
Over the past couple of years the equipment has changed, and SUP has become more of a legitimate sport worldwide. Thanksgiving weekend 2009 Eddie and fellow SUP enthusiast David Slemp produced the first Unreal SUP stand up paddle event, including a SUP surf contest and 3.5 mile flat water short distance race around downtown St. Augustine. The second Unreal SUP event was held on April 10, 2010, including a second SUP surf contest and a ocean race. Another event is planned for the last weekend in August, including free SUP demos and lessons.
"Throughout my life the ocean has given me the opportunity to enjoy the outdoors, stay in good physical shape, and connect with the natural environment in my native state of Florida. My goal is to share this experience with others, while providing a safe learning environment. Stand up paddle boarding has provided a new and very exciting way of bringing the surfing experience to the masses. ANYONE can learn to SUP in flat water within a matter of minutes, and enjoy the experience of gliding across the water while standing. For the more adventurous, SUP surfing is a challenging and exhilarating way to enjoy the ocean. I look forward to sharing my knowledge and experience of the marine environment with you."